Private Parties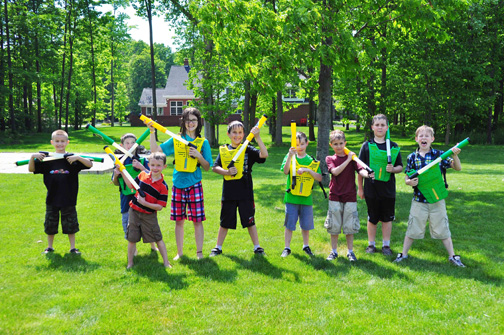 1. Birthday Party Games
Need ideas for birthday parties that both boys and girls can enjoy? Then look no further. Let us handle everything for you - from online birthday party invitations to entertaining party games and activities to goody bags. We even clean up after ourselves and leave you with thank you cards. Partygoers will love playing their favorite video games in a theater-like setting. Add human hamster balls, Angry Birds or laser tag for the most awesome birthday bash ever! Your child will smile ear-to-ear and thank you for weeks to come, while you feel like this was the easiest party you ever planned.

2. Bar/Bat Mitzvahs
Mazel tov! Your child has reached the age of Jewish adulthood. Celebrate this milestone with us and let us help you create memories that will last a lifetime. We make sure that we not only entertain kids, but also the adults at your party with all sorts of games. Kids will have a blast with Dance Dance Revolution, especially when adults get in on the fun! Our mobile gaming carts are great to play videos of your child or to bring the video gaming party indoors. Mix in some in-door laser tag and hamster balls and watch them have the time of their lives. We'll also help you send out invitations and thank you cards. Let us help with your child's Bar/Bat Mitzvah party in Detroit.

3. Communions
Planning a First Communion celebration can be a lot of work. Let us take a few things off your list. Lots of kids at your event? No problem. Between the Game Crazy video gaming theater, laser tag, water tag and Angry Birds, we can handle hundreds of kids at once! Our friendly Game Coaches are trained to make sure all kids, regardless of age or personality, have a blast in a fun, safe environment. Your child will remember this rite of passage forever.

4. Teen Parties
It's hard keeping up with what teens want these days. Game Crazy can make it easy for you and them. Call us and your kid will think you're the coolest parent around. Where else can kids play party games like Angry Birds IRL (in real life)? Or play the latest and greatest video games with 23 of their friends all at once on multiple large screens in our gaming theater? Or get an adrenaline rush playing backyard laser tag, smoke grenades and all? Yup, totally cool! Well done mom, you've just won the Cool Mom Award!

5. Graduation Parties
Make your graduate the center of attention - have him walk, or rather roll, down the aisle in a giant, inflatable human hamster ball! Your child has worked hard – now it's time to play hard. Whether you have the graduation party in your backyard or at a hall, we go wherever the party is. Celebrating outdoors? A splish-splashing game of Water Tag will cool off your guests. They'll have a blast when they put on special soak vests and spray their friends with water guns. From invitations to entertainment to thank you cards - we will make your event planning really easy.
Corporate Parties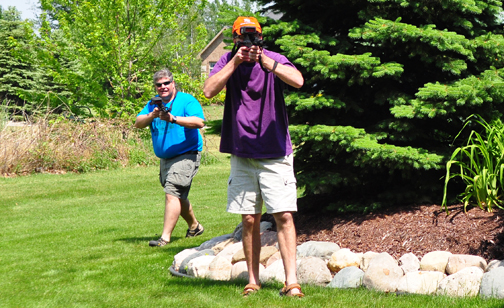 1. Company Picnics & Team Building Retreats
Tired of playing the same old Frisbee and whiffle ball games at every company picnic? Out of ideas for your next corporate party? Let Game Crazy provide the entertainment for your next event. Why not build morale, encourage teamwork and get the adrenaline pumping with laser tag in your company parking lot? Or watch adults laugh uncontrollably as they race to the finish line in our giant human hamster balls? If spouses and kids will be there, we'll keep them entertained for hours. Add a Candy Cannon and kids will go home with t-shirts, candy, wrist bands, stickers and goody bags! Warning: you might have a 100% attendance at your next corporate picnic once your colleagues know that Game Crazy will be there with awesome party entertainment.

2. School Fundraisers
All schools, private and public, are facing severe budget cuts. If you are organizing a fundraiser for your child's school, we can help you boost attendance and raise more money than traditional school fundraising activities. With Game Crazy school fundraising programs, you keep more of the profits! We work with you, the staff and the PTA/PTO to involve the students in the fundraising process. They will see that teamwork and effort lead to success. Our fun, interactive games will make every child in your school want to participate. So call us today at 1-888-55-GAMECRAZY to see how we can help you reach your fundraising goals.

3. Summer Camps
Are you looking for a way to make your camp stand out from the crowd? We can help. From exciting sports and interactive, educational video games to outdoor and indoor fun, your rambunctious campers will be running around all day and getting sweaty and tired. Our friendly and experienced Game Coaches manage all the activities in a safe environment, and they make sure that kids will never want to leave your camp! Laser tag, human hamster balls, water tag and dodge ball all work great in a day camp or overnight camp setting.

4. Community Events
Enjoy some good, clean fun with your friends and neighbors at your next community event or subdivision annual picnic. Get to know them as we roll in to your neighborhood and start up the fun! Watch the kids play and have the time of their lives, or play along with them. You'll feel a sense of community and belonging. Bringing happiness to everyone is our mission, so call us today and let us spread some happiness at your next community event.

5. Other Events
Since we are completely mobile, we can come to your country club, festival, carnival, charity event, family reunion or any other event you can imagine. Call us at 1-888-55-GAMECRAZY to get the fun started.